Prefabricated fencing and railings from stainless steel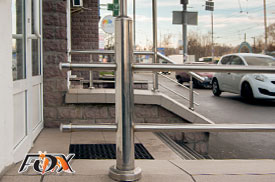 In recent years teams stainless fence and handrails, made great demand. Fences made of any other material proved to be uncompetitive against the railings of stainless steel in government and commercial construction sector. So, this was evident in the Moscow market, where the proportion of such fence is equal to 70-75%.
The prevalence of prefabricated structures is explained by the following factors: speed of manufacture, the ability to perform a fence of any configuration, and it's decorative properties and performance characteristics stainless steel products.
Prefabricated fences are distinguished by the materials used and configuration. There are two groups: railings with glass fencing and just. Railings with glass different from the glass rack and glass. For the first characterized by the fact that the glass performs a decorative function, and in glass enclosures it support.
Prefabricated steel structures are manufactured exclusively for individual orders, as each case has its own peculiarities that must be considered. But in every company there are albums with different versions and sketches of fences that can be modified taking into account the desires of the customer.
Fabrication and installation. Stainless pipes can be manufactured handrails and posts for the stair railings. All the work of cutting and polishing are performed on special equipment. Sometimes used balusters and posts of factory production, and the holders of purlins, glass, bolts, flanges, decorative accessories, are selected in accordance with the project.
Fences are collected at the customer site. The Assembly process is not complicated, it is able to execute any installer. For connection details used specialized epoxy glue, the so-called cold welding, and for joining can be applied rivets and bolts. Places mounts and the joints are masked with decorative accessories. Cold welding is reasonable to apply only in cases where it is the only reliable method of anchoring the structure.
The materials and components. For palings and posts most commonly used stainless steel AISI 304 or 304L. These samples have become resistant to atmospheric and temperature changes, to corrosion, to mechanical stress.
For manufacture of fences of steel, which will operate in high humidity conditions, for example in the pool, used steel grade AISI316 and similar.
Stand, decorative furniture, balusters are also made from similar stainless steel.
Handrails can be made of plastic or wood. Multilayer (laminated) or tempered glass.
Most of the materials come from Italy, Spain, Slovakia, India, Turkey and China. In Ukraine, today, accessories for handrails and railings from stainless steel are made only in a few plants.
The quality of materials and components depends on the manufacturer: Chinese products are manufactured under licenses of European companies, meets all requirements and standards, which is not true of the products of those same factories, but are made without any technological control and licenses.