Railings and fencing for the pool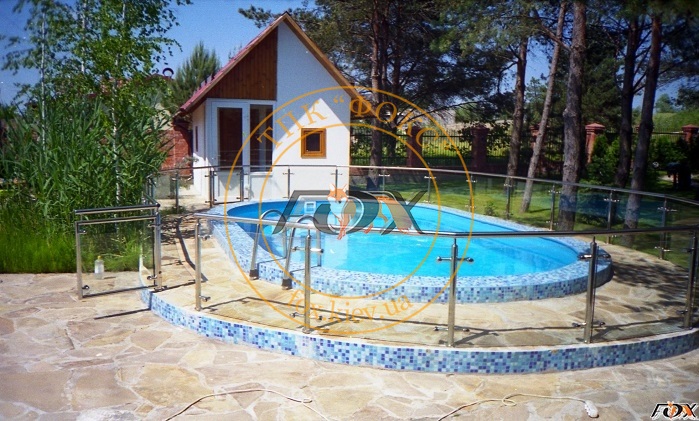 Choosing fencing and railings for the pool should stay on stainless steel construction. As a rule, these products will easily stand the test, which will bring water environment - not covered with rust and rot.
Staircase with stainless steel railings will be a great decoration for the pool and a great option in maintaining health. Handrails stainless steel will give the aesthetic appearance and ensure a safe descent, and the output after bathing, protecting it from accidental drops.
The main requirements to the material
* Fences for the pool are constantly in contact with aggressive medium (water with chlorine). That is why they are experience the following requirements - resistance to corrosion.
* In the case of installation of glass structures it is best to use high strength triplex.
* Installation of railings with stanchions should be carried out by welding.
*
Stainless steel banisters
to avoid the formation of corrosion manifestations on the ends are treated with nitric acid.
* The enclosing structure should have rounded edges that will protect children and adults from injuries.
The standard staircase consists of 3-5 degrees, with straight or curved rails.
FOKS company offers to buy a stairs with stainless steel railings in Kiev, which are made with observance of all norms and taking into account individual design features of the pool.
Selection criteria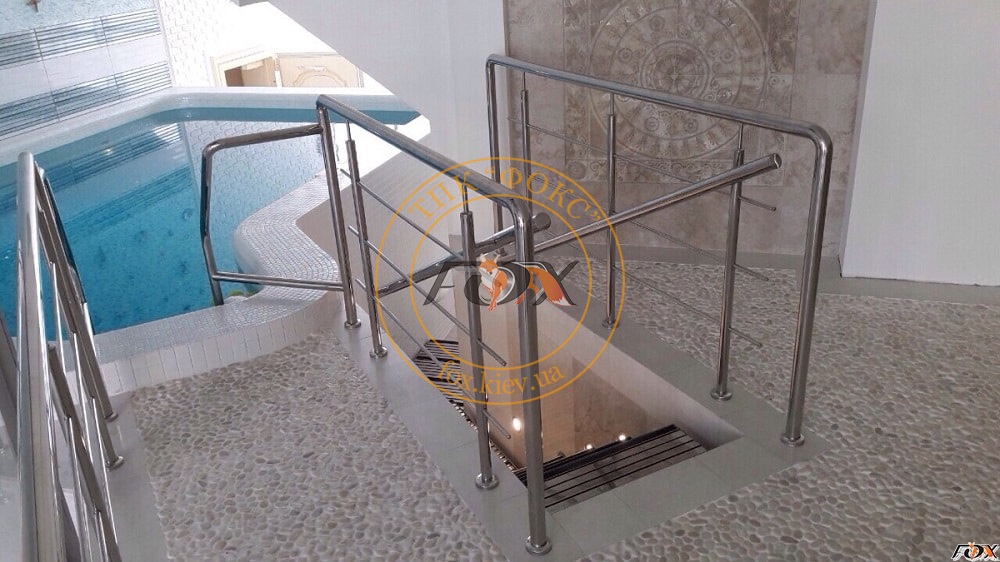 Planning the order of the ladder, you should consider the following recommendations
- The size of the product must meet the depth of the pool;
- The material chosen for the steps must be strong enough not to slide;
- Near stairs should not place such constructions as slides, trampolines, etc.
Features of the unit
From the view of the swimming pool depend on the choice of the stairs. Structures, which is suitable for entering the pool should always be equipped with a handrail. Mount the stairs runs on a special anchor, which is pre-laid into the side of the pool. Alternatively, the installation can be carried out using the cups that are installed after the finishing of the pool.
The advantages of fencing
* Absolute safety design eliminates the presence of sharp corners and sharp joints;
* Strength - anchoring lend a special strength to the product;
* Comfort special anti-slip surface provides comfort during ascent and descent;
* Wide range - you can order rails of different widths;
* Hygiene - resistance to a humid environment does not allow to form the fungus;
* Durability - in such circumstances, stainless steel can last for about 90 years;
* Accessibility - low cost allows you to purchase stainless steel products for home and public pool.