Terrace railings - detail that creates harmony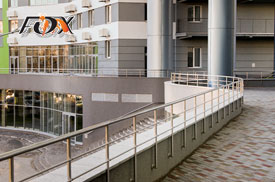 Today, metal is one of predominating places in the field of construction – a large number of interior decoration elements for building facades, landscape design is made of metal by welding and forging works. Metal different aesthetic appeal, durability and simplicity of care.
The most popular metal designs decorating the surrounding space, balconies.
The production of balconies using metal rather laborious process, but the result is often simply strikes with its beauty and functionality.
A variety of metallic elements of the interior are pleasing their owners excellent design and functional characteristics for a long time, and may not be only owners. So, for example, metal fence balconies made by professional craftsmen it is not just the decoration of the facade, but a whole work of art.
The balconies are manufactured in our company is a unique, stylish design and maximum durability and strength.
Our company offers a large selection, we have already made stainless steel products in Kiev for any taste that are ready to serve you for a long time and to bring aesthetic pleasure. In addition, our company manufactures balconies, railings and handrails stainless steel for individual orders. We are ready to execute the order according to your sketch, if you have a sketch, our designers will make you a thumbnail view of all your wishes, and masters, working for us, will bring the project to life.
Live in harmony with the world quite simply, it is only necessary to ensure that every detail of the surrounding world combined with other elements and pleasing You.