Each ladder - reliable handrails!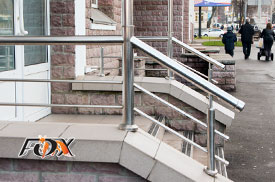 In the absence of which we cannot imagine a ladder? If the ladder consisted only of stairs to climb to the upper floors are very dangerous and difficult. By all standards of the ladder, number of steps exceeding three, shall be equipped with handrails or "grab bars".
The safety of movement - above all else
The railing – важный и необходимейший элемент конструкции, выполняющий функцию обеспечения удобства и безопасности передвижения по лестнице.
They especially need Your kids, the elderly, and people with disabilities. For this reason, they should be securely fixed, sturdy, and do not have pointed corners. In addition, durable and reliable railings for stairs can also be a wonderful ornament, and perform a decorative function.
Railings and stairs as a work of art
Separate staircases are like works of art: skillfully made and selected pattern, graceful shape, sparkling and flawless surface rail. The imagination of architects and designers is not how it is limited, as modern materials enable them to produce convenient, beautiful and practical stair group. You can all see this, referring to the product catalogue of our company.
Your imagination and our possibilities are not limited
I use ladders all people. And staircases that lead to the store, the hospital or the Bank are also disabled. For this reason, all public places should be equipped with specialized devices that allow people with disabilities to spend time in such establishments. For this purpose, special stair railings. With these grab bars person in a wheelchair can visit doctors, do without the help of others, to make purchases in the store. Therefore one of the main products of our company are a variety of handrails length of the disabled. They can be mounted both at home and in public places.Absolutely everyone who has ordered these special stainless steel handrail was satisfied, because these grab bars have a high quality and long usage life, as stainless steel handrail, which is impervious to rust and corrosion non-slip grip in hand and permanently attached fixtures to the floor and walls.