Staircase inside the house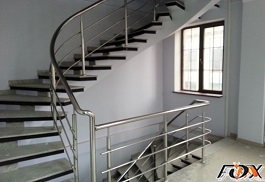 The stairs are very important to the invention. With it we have the ability to overcome changes in elevation. The use of different design solutions when the manufacturing steps creates a unique home decoration. Stage can be used for dividing the internal space of premises.
So, have become increasingly popular so-called podiums or one with multiple steps.
In developing the project steps need to be considered visual, functional and acoustic aspects. If necessary, the ladder can be equipped with a protective grille. The stairs are divided into those that have a straight form and those
which are of rotary form. First of all, each type of ladder must meet stylistic and architectural solution space.
Based on the height of the ladder it can be a lot of marching or marching. In many flighted stairs delimited by each March Playground. As a rule, the March consists of no more than 10 steps, otherwise, climbing stairs will be difficult physically. To turn the stairs using winder steps and platforms. Winder tread length have different width: from the outside edge wider, and the inner side of the edge already, but not less than 10 centimeters. In a spiral staircase all of the winder tread. A spiral staircase takes up much less space than straightforward.
Most commonly used wooden ladders. Wooden staircase can be decorated with various figurines, decorative elements, custom carved railings. Decorations can be cut from wood or forged from metal. Wood staircase done with closed strings or open strings. Wooden stairs unlike stairs in stainless steel more massive and takes more space.
Increasingly, in private homes using ladders to mount to the Bolza. These stairs will complement any interior. Stairs can be made of different materials, such as glass, metal, wood. In manufacturing steps of glass using three-layer glass. If necessary, the steps can be applied matte white pattern that will help to ensure that steps do not slip.
Staircases can be made with ready-made concrete structures. This proven and reliable ladder, with excellent fire and sound insulation properties.
For safe movement on the stairs should take care of the lighting. Most often the switches are set at the beginning and at the end of the stairs. Placing the light diodes and lamps depends on design decisions. It is best to position the lamps so that they would not be blinded coming up the stairs man. Look great LEDs mounted in the side wall, steps or railings for stairs. Led lighting is a good addition to the decor and provides the functionality of the stairs.
Carefully designed and embodied the design of the staircase will create a cosiness and comfort in Your home.