Stair construction with stainless steel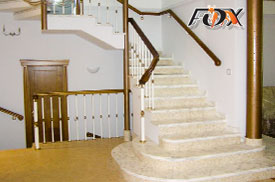 The dominance of stainless steel in the world market, was the reason that this unique metal is used in all branches of construction and production. So, for example, stainless steel is increasingly used in the manufacture of modern staircase systems.
If You want to order or purchase a product made with stainless steel, You can count on our company. Work for us professionals qualitatively and in time will perform all necessary works, from measurements and ending with the installation.
However, our company in the first place when performing work puts quality, so You will not regret if you choose our services.
Resistance to corrosion and adverse environmental factors have expanded the field of application of traditional metal. And today outer stairs made of stainless steel this is the best solution for industrial construction in adverse climatic areas. A stylish ladder design, perfectly complemented by a polished stainless steel pipes that will become the center of any residential and business center. With the emergence on the market of materials such as perforated stainless sheet and corrugated sheet metal, the possibility of creating reliable, durable, and comfortable stairs has increased significantly. Today for the production of anti sliding platforms, steps, bridges apply these materials.
For the manufacture of railing and railing stainless steel, auxiliary and load-bearing ladder frames successfully applied polished stainless steel. Perfect appearance, corrosion resistance and high strength – those qualities that polished stainless steel does not leave indifferent architects and designers. And when you consider that the material is easy to care and durable to use, it becomes obvious why the material used in the construction of stairs.
Stainless steel perforated sheet is the best material for the fabrication of platforms and stairs in technological complexes at oil rigs, food processing and chemical plants in manufacturing plants. Greater resistance to high temperature stainless steel provides excellent protection against fire and harsh climatic conditions.
Fencing stainless steel performs two important functions: protective and decorative.
Walling data systems are in various composite versions with plastic or glass that allows you to enhance the architectural aesthetics of the exteriors and interiors. Also the stair railing can be made of polished stainless pipe, which is used as a frame with a glass, plastic or wooden panels.
The staircase design made from stainless steel, functional and attractive due to the fact that stainless steel combines the beauty and high physical and chemical properties.