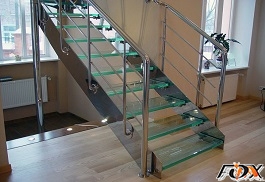 One of the essential elements of the current architecture are the stairs. Stairs are present everywhere: in shopping malls, homes, schools, clubs. Every day, people move along the staircases. In this regard, it is necessary to best protect the movement.
Any stairs should have a sturdy and reliable fence.
Today, the most commonly used metal stair railings. They have a number of advantages: high durability, easy care, durable and can be perfectly combined with any architectural style. Metal stair railings look great and the interior of the office, and on the porch of a multistory building. In addition, the metal can be given a different configuration and shape.
Railings made of stainless steel, found great use in the commercial and business buildings. The steel banisters perfectly withstand big loads, because during the day it is exposed it to many people. Stair fences of metal perfectly combined with modern finishing and construction materials, such as plastic and glass.
Current manufacturers produce several types of fences. For example, fences for stairs with several flights or one, turning of stairs that have an intricate configuration, for spiral stairs, where the railing is a continuous line and for straight stairs.
Usually, stainless steel does not require additional processing. The railing, made of stainless steel highlighted with perfect joints, which are made by modern technology.
Staircase safety is the most important indicator that must be considered in the first place. You should not disregard the reliability for the sake of design. The fence in the first place must be reliable and ensure absolute safety during operation.