Advantages of stainless steel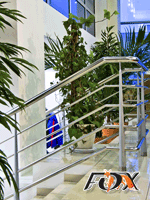 Made of stainless steel metal, widely applied in various spheres of industrial activity. The prevalence of their use is due to the excellent performance and technical characteristics. The most popular metal in the manufacture of furniture and interior decoration, buildings of residential, public and commercial applicability.
Today, the manufacture of such structures provides a large number of national brands. Stainless steel is made different on the complexity of design, to Assembly which you want to buy stainless steel hexagon bar and other tools. What is the advantage of stainless steel over other metals, and what is the reason why most steel fabricators use this material? The main reasons for this choice is:
perfect appearance, which contributes to the fact that the metal, made of such material, were spotless and elegant;
excellent resistance to corrosion and high resistance to adverse environmental factors;
durable use;
the resistance and compliance of fire safety of steel structures;
a great combination with many of the latest finishing materials.
Mirror finish steel structures is made of stainless steel adds aesthetics. As a result, stainless steel pipe, and other similar products are perfectly suited to the interior for modern construction projects. The next item is the corrosive resistance of stainless steel. Stainless steel is an alloy, the basis of which 20-25% is chrome. Thanks to the chromium alloy has a high resistance to moisture and changing temperature regimes. Due to the corrosive resistance of the stainless steel products can be used for a long time and have excellent technical characteristics. In addition, metal structures made of stainless steel are structure with uniform chemical composition of the material. This feature contributes to the fact that that appears on the product scratches or scuffs can be removed with polishing without compromising the original aesthetic properties. Structure made of stainless steel possess the operational practicality due to the fact that the alloy of steel and chromium has a high strength in contrast to the grades of carbon steel. Causing this guide provides rigidity made design as well as excellent weldability of details. Given all these advantages of metal structures made of stainless steel, their popularity is growing every year:
walls, canopies, columns, frames, input zones;
custom metal structures;
stairs fencing, railings and handrails;
furniture, etc.