Handrails made of Italian stainless steel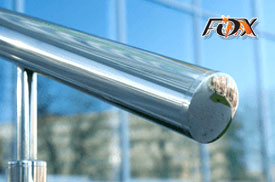 In structural terms, traditional, stainless steel handrail represent the basic design type which is fixed to the base wall. It is for her to stay with the person while walking flights of stairs. According to a centuries-old practice of leading employees of the company FOX, stair railings play an essential role in the process of forming the interior of the dwelling.
The same rule applies handrails for stairs. Today there is a huge amount of original designs that can be associated with handrails and railings. Primarily on the formation of basic concepts will affect the performance of the geometric, textural and color balances.
To manufacture stainless steel handrail, our staff uses high-quality stainless steel, steel or brass.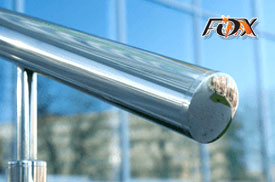 Steel handrails can blend together to emphasize all the significant features of horizontal space. In this case, creates the effect of visually enlarge the existing volume of the dwelling. When you use steel handrail glass stairs You will be able to create linear prints for all stair design and to highlight the main features of the silhouette of the object.
We use a unique method of manufacturing of stainless steel handrails give the opportunity to create more elegant and sophisticated design. If you additionally use a polishing, in the interior of the dwelling can be properly form the light distribution and to highlight the already established style.
In the case of installation of handrails from brass alloys is necessary to understand always that they are effective elements in designing living spaces that are a perfect fit for the style of art decor.
FOKS company is engaged in the manufacture of stainless steel handrail in Kiev not for the first year, you can order steel products of all kinds, including original design solutions.
Gallery of stainless steel handrail