Handrails for staircases from stainless steel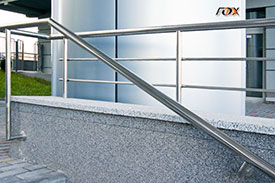 The main purpose, which have modern handrails is their aesthetic role. But apart from that they also perform the important function of security. In most cases the handrail for flights of stairs in Kyiv are used in cases where it is necessary to stress the uniqueness of design and special stylistic value of the dwelling.
Due to this, they acquired widespread popularity in the field of design of country houses and residential apartments. Leading specialists of the company FOX made modern handrails for staircases of high quality plastic, stainless steel or brass.
In the manufacturing process of the handrail employees of our company use only high quality raw materials. To his number in the first place today, when referred to stainless steel. This metal can be made reliable and durable handles, which will harmoniously fit into any modern interior solution. They will have the most simple and however elegant appearance. Also worth mentioning is the fact that metal handrails capable of withstanding the critical loads and thus hardly deformed. This material is very durable. That's why you can buy handrails for stairs in Kiev, is made of steel for use outdoors or indoors. Carefully polished handrails will give the living room a unique lighting and will be the most original way to reflect the sun's rays. Accordingly, this is optimal not only for modern housing and industrial buildings. Combining ladder handrails stainless steel with various finishing materials, You can original design of the dwelling and to achieve amazing visual effect.
At least a unique material that is very often used today for the manufacture of rails, is a brass-and all its derivative alloys. This material has the original Golden hue and fits perfectly in the aristocratic style of any residential premises. Such handrails are often used in homes with large staircases. Brass blends perfectly with almost all expensive wood. This material is not as durable as stainless steel, but still reserve the existing capacity is enough to produce reliable railing. That is why our employees are very often products made from alloys of brass. To buy grab bars in Kiev You just need to contact us.
Gallery of handrail for stairs