Handrails for stairs of stainless steel
and wood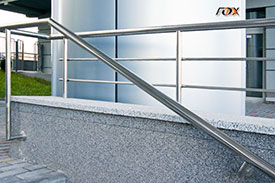 Stainless steel handrail consisting of a base type, which is attached to the base of the wall. They perform the important function of security, because it will keep people while walking several flights of stairs.

Grab bars are used in cases when it is necessary to stress the uniqueness of design and special stylistic value of the dwelling.

Today there is a huge amount of original designs that can be associated with handrails and railings. Primarily on the formation of basic concepts will affect the performance of the geometric, textural and color balances.

Our company manufactures modern handrails for stairs made of the following materials:

- stainless steel
- carbon steel with polymeric (powder) coating
- wood

Metal handrails have proven themselves as reliable and durable that will harmoniously fit into any modern interior solution. They will be as simple as possible and with this elegant look. Handrails made of steel, ideal for use as outside and inside.

Wooden handrails are often used inside buildings, since this material is by its nature wears out quickly and loses its appearance and durability when used outdoors. To choose the color of the wooden handrail can be at any interior.
Gallery of handrail for stairs