The stainless steel railing - stainless steel Handrail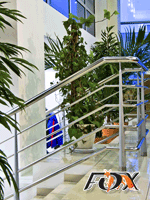 In this case stainless steel banisters, the production of which the experts of the company FOX, are vital. That is why very often the railing is given much more attention in comparison with himself up a flight of stairs.
The need to use the stainless steel railing in modern building of Kiev completely obvious. Without using them the person could not even safely navigate flights of stairs, avoiding accidental drops. High quality railing stainless. steel allows for the most convenient ascent and descent of stairs.
Also in any case do not forget about their aesthetic role in the decoration of the staircase space.
Features basic designs of stainless steel railing
In accordance with applicable safety standards and performance requirements, railings or railings made of stainless steel in Kiev should be used for installation of all stairways containing more than 3 degrees. If the stairwell is too narrow, the railing NJ is enough to install only one side. On the broader types of ladders to ensure you a comfortable passage handrails are mounted on both sides. In most cases, the height of the railing should be 90 cm and the distance between their racks at least 15 cm above values may vary in direct dependence on the underlying purpose of the stairs. The optimal distance between the adjacent drains stainless steel railing can be in the range of 10 to 15 cm.
Prices on the stainless steel handrails of this type will be much higher compared to their traditional designs. If You want to significantly improve the safety performance of the operation of flights of stairs, then you are set railings for stairs with clear accounting rules.
For the manufacture of our railing uses stainless steel selected key employees of the company FOX. In the basic design of these products may include all the elements of a high-strength glass. Our practice has shown that properly selected material can be made of various configurations railings of any complexity.
Installation of stainless steel railing - a job for real professionals
The stainless railings of our production is perfect for all types of stairs, regardless of what difficulty they have. In the case of wooden staircase railings to our employees are fixed by screws to the special flanges. Alternatively, you can also use a universal bolting. If you need to mount the stainless railing at the base of the metal stairs, in this case, it is most expedient to use the methods of the same welding or bolting. In the stair wells concrete type mounting system is far more complex. In the process of casting need to mount special railings of the embedded type. And further already it is on their basis will be welded to the construction railings.
Railings made of stainless steel with a quality mark!
Foks company carries out manufacturing of stainless steel railings, using the most advanced equipment and only high-quality metal products. All of our products are characterized by durability, meets the requirements of durability.
On the website there are many different models of stainless steel railings available to online order.
Railings made of stainless steel, is ideally suited to any environment, metal goes well with any other materials. Our experts in Kyiv can create as welded fence, stainless steel and assembled model.
Stair railings made of stainless steel - practicality and beauty!
We produce stainless steel handrail quickly assembled and, if necessary, easily dismantled.
One of the key benefits we offer To stainless stair railings, is that they do not require any regular maintenance and overhaul. They for a long time and retain their appeal over the years, not losing strength qualities.
Neither of atmospheric phenomena is not able to exert a negative impact on the metal railings for stairs.
It doesn't matter in which stainless steel fencing You have selected: polished or matte.
Fence of stainless steel is practical, reliable and a good addition to the interior of any building.
Measurement, fabrication, manufacture and installation of handrails and railings for stairs
The procedure for the production of steel walling begins with the creation of the project. Any metal fences, whether it is welded or machined, can be a lot of decorative elements, which are also usually made from stainless steel. Depending on the client's preferences and financial possibilities, you can choose any option stands for stairs, including polishing. We offer you to familiarize with the photos of finished products and to buy what you like more.
Manufacture of stainless steel railings is carried out on special equipment in strict accordance with the requirements of GOST. In this case we use a special type of welding – TIG. Thanks to this technology stands a much better polished and have a neat appearance.
The company's specialists Fox will contact you as soon as product is ready and you can proceed to its installation. Stainless steel fencing stairs are installed as professionally as possible, and their quality meets the highest standards.
Types of railings for stairs of stainless steel
We produce in Kiev under the order of any type of stair railings from stainless steel and glass.
The construction mainly depends on two factors:
The purpose of the room
Width of a ladder March
Price list for fences made of stainless steel with a current price per meter
On the website you can download price list with the current prices of different types of stainless steel railings and fences.
Where to apply stainless steel stair railings?
This kind of design can be installed in a variety of areas. There are no clear recommendations, which model and where to look better. However, in the office, you can buy the most simple options of racks made of stainless steel, and for shopping and entertainment centers would be wise to install this type of walling, which on the one hand contribute to the safety of movement and on the other looks pretty and doesn't block views of storefronts. This, for example, can be achieved with panels of glass. If you want to liven up a flight of stairs, you can use decorative elements from wood.
We invite you to explore product catalog and buy the most suitable option of fences from stainless steel. As soon as you find any model, please call us by phone in Kiev: +38(044) 507-01-97, +38(067) 324-55-11