Balcony railings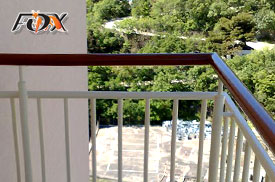 Enclosures for balconies and stairs play a very significant role in the formation of the total composition of a residential building in Kiev. Because they can not only provide the necessary performance convenience and security of home stairs, but also to give the interior the decision of the house of originality and strict personality.
Enclosures for balconies in Kiev, manufactured by FOX, have different configurations. Fencing metal perform two significant functions:
providing necessary level of safety people who are on the balcony.
the decoration of the external appearance of the facade;
Based on these features, balcony railings Kiev should strictly comply with the following requirements:
reliability;
durability;
aesthetics;
the susceptibility to corrosion;
convenience;
functionality.
Almost all railings for balconies can be constructed with a working height, an indicator equal to 1 meter. The role of the figure can be used different versions of the fences grass type. They can have convex, arcuate, and rectangular. The role of a handrail is better to use PVC or natural wood.
Modern fence balconies, guided by the requirements of safety, must clearly meet the following criteria: the handrails should have a smooth shape;
the gaps between adjacent cladding elements must be in the range of 10 to 12 cm;
all handrails must withstand a horizontal type about 100 kg per meter of length;
the height of the railing should be approximately equal to 90-100 cm
Specialized company FOX at any time ready to offer you the services of manufacturing, design, installation and preliminary configuration selection of different types of balcony railings in Kiev. Almost always, we manufacture our products from stainless steel. But if necessary we are ready to execute Your individual orders.
Gallery of fencing