Anchor stainless steel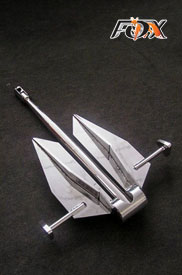 The ship's anchor is a special device used for holding courts for the period of non - open water.
The choice of the anchor - a matter of great responsibility. The anchor to the ship should never be a decoration or a decoration piece, it needs to meet a number of requirements and to perform required functions:
To keep the ship at the place where it is installed if any and for any, even a strong wind;
To ensure the absolute braking and stopping when the need arises.
The holding force of the armature is determined depending on the mass of the anchor, from its shape and length of the anchor line (anchor chain). The length of the latter is determined by the depth of the vessel and is generally from five to eight depths.
There are several types of anchors, such as:
Admiralty, its holding power is up to eight times the weight of the anchors;
Hall anchor, its holding power is up to four times more than its mass;
Anchor Sailors, does not lose adhesion even in the case of turning the vessel on 360градусов, its holding force up to six times its weight
Our company has developed its custom design anchor, which has already successfully hosted a number of necessary tests and already used for several years on ships - in lowland rivers. We make anchors for vessels according to individual sizes, with the individual calculation of the holding forces of an anchor.
Gallery anchors the production company Fox