Ladders stainless steel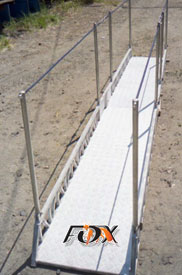 Function ladders stainless steel - local collection and disposal of waste water in sewage networks. Ladders are installed at the enterprises of such industries, where there are charged higher requirements for sanitation of production areas, such as, for example, food industry. Among the entire assortment, ladders from stainless steel with horizontal and vertical releases in different sizes and diameters, which are supplied with drain grates - stainless steel, traps mechanical impurities and hydraulic seals. The ladders is such that you can easily serve the sewer pipes.
Included with each ladder usually go for the siphon - trap, a water intake grates and traps impurities. In order to provide access to sewer pipes for their service, the ladders are equipped with audit, or their design is such that allows you to remove the siphon.
A standard set of ladder stainless steel includes:
the body of the ladder;
grille;
the water seal or water seal to trap the mechanical impurities.
We offer floor drains of various diameters, with various types of grilles for different loads, and many others non-standard metal.
Gallery of stainless steel structures