Fencing ramps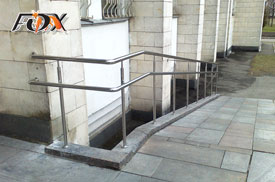 According to current building codes in the design process of each residential building or public facilities must strictly adhere to the needs for persons with disabilities. Indeed, to date the issue of disability in our country is at a priority level. But, unfortunately, today it is very rare to meet vehicle Parking, specialty shops or other building facilities with special devices for people with disabilities.
Railings and handrails of all kinds for persons with disabilities should be used by people with disabilities for comfortable and easy movement in public places. Also, these specialized devices often have people in our country who are in advanced age.
That is why fencing ramps, which are made by leading experts of FOX, have a specific design. It is due to the unique ergonomic requirements: the dimensions of the wheelchair, the height of the grip, etc. In most cases, all such fencing equipped with double handrails, which lower the complexity of their capture. The height of the railings of the ramp is caused by the same and state standards. The design of these fences almost always provide a lower frame, which will prevent slippage of the wheels of wheelchairs on the plane ramp. You also need to consider the fact that the load on the handrails will increase in some individual cases. Accordingly, it is necessary to predict in advance and to lay additional safety margins in the design of the railing, and fence of stainless steel is perfect for this.
Almost always a ramp located on the street. That is why our specialists recommend the use in the production process of fencing ramps to use special polishing and corrosion resistant materials.
Gallery railings of the ramps