Installation of handrails and stair railings
Our company produces high-quality installation, stair railings, and installation of handrails. Taking into account all Your preferences, our staff will deliver your order at a high level: manufacture stair railings, delivered to the right address and install them. We provide services in manufacturing of stainless steel handrails and installing grab bars. From our catalog You can choose any model from a large number of ready-made designs.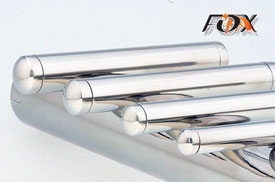 If You don't find what You need, our experts are always ready to help: they will develop a completely new, unique model, based on personal preferences. Our teams of highly skilled workers will be able to perform the installation of fences in Your territory (in the house or in the yard) at the highest level, observing all standards. That is why our products are not only beautiful and original but also reliable.
Everyone knows that the most important and mandatory elements of any staircase, whether in the house or in the yard, are handrails. In their manufacture takes into account not only attractive appearance, but also durability, reliability and safety, which must be combined with ease. Our company is famous for its implementation of the most unusual orders. TPK Fox makes installation of railings, which no doubt fits in perfectly with the design of Your home at the highest level.
TPK FOX ✓Stylish quality first
Under our careful supervision are the feedstock, production process and delivery. Using the highest quality materials and tools that meet modern standards, the speed of installation of railing has increased significantly. Our employees can be trusted with the most complicated projects because they have great experience and excellent deal with all their complex tasks. Effective interaction between production and Assembly Department is by installing stair rails of its own production. We guarantee and take full responsibility for the quality of our work because our products are durable, comfortable and last long.