Caps for handrails
Prices please call us at
044 507-01-97, 067 324-55-11
Internal plugs stainless steel

View
Code
Description
SVN-110
the diameter of the inner - 8,0 mm, external - 10,0 mm
SVN-112
the diameter of the inner - 9,0 mm, external - 12,0 mm
SVN-114
the diameter of the inner - 11,0 mm, external - 14,0 mm
SVN-116
the diameter of the inner - 13,0 mm, external - 16,0 mm
SVN-118
the diameter of the inner - 15,0 mm, external - 18,0 mm
SVN-120
the diameter of the inner - 17,0 mm, external - 20,0 mm
SVN-125
the diameter of the inner - 22,0 mm, external - 25,0 mm
SVN-132
the diameter of the inner - 29,0 mm, external - 32,0 mm
SVN-138
the diameter of the inner - 35,0 mm, external - 38,00 mm
SVN-142
the diameter of the inner - 39,0 mm, external - 42,4 mm
SVN-148
the diameter of the inner - 45,0 mm, external - 48,0 mm
SVN-151
the diameter of the inner - 48,0 mm, external - 51,0 mm

External plugs stainless steel

SVN-210
on the pipe - 10,0 mm
SVN-212
on the pipe - 12,0 mm
SVN-214
on the pipe - 14,0 mm
SVN-216
on the pipe - 16,0 mm
SVN-218
on the pipe - 18,0 mm
SVN-220
on the pipe - 20,0 mm
SVN-225
on the pipe - 25,0 mm
SVN-232
on the pipe - 32,0 mm
SVN-238
on the pipe - 38,0 mm
SVN-242
on the pipe - 42,4 mm
SVN-249
on the pipe - 48,3 mm
SVN-251
on the pipe - 51,0 mm

New


SVN 332
д. внут. - 29,0 мм, д.внеш. - 32,0 мм (штампованная)
SVN 335
д. внут. - 32,0 мм, д.внеш. - 35,0 мм (штампованная)
SVN 338
д. внут. - 35,0 мм, д.внеш. - 38,0 мм (штампованная)
SVN 342
д. внут. - 39,4 мм, д.внеш. – 42,4 мм (штампованная)
SVN-442
on the pipe - 42,4 mm
SVN-451
on the pipe - 50,8 mm

EXTERNAL PLUG
CARBON STEEL

SOUND-442
on the pipe - 42,0 mm
SOUND-451
on the pipe - 51,0 mm

INTERNAL PLUG
CARBON STEEL

New


SOUND - 332
other internal. - 29,0 mm, D. EXT. - 32.0 mm

(stamped)
In the process of installation of any modern fencing at some point the question arises about how to finish it freestanding and adjacent to the wall elements. Today, there are several answers to this question:
A decorative flange.
The decorative cap that will be installed on the rail, and connect it with the plane of the wall with a special bracket.
To mount the challenge, closing the bottom hole with a cap.
Use decorative plugs.
According to all the above, most often used various configurations of plugs that leading employees of the company FOX are made of stainless steel. Our range includes various configurations of plugs for fences of various levels of difficulty. We are also ready to provide the attention of a potential customer of different components which possess high strength, reliability and quality.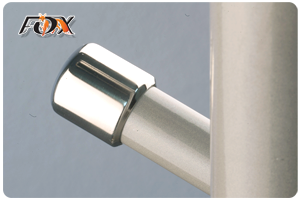 Methods of manufacture of plugs
On the production line of our company cover steel is manufactured by one of the following methods:
method stamp;
the method of turning a metallic workpiece;
method of pouring metal in some form.
The most durable and high quality products are obtained by the method of casting. In this case they will have a perfect shape and most presentable appearance. To give all the structural elements details of the corresponding presentation must be cleaned to remove excess burrs and Polish.
The stamping technique is based on direct mechanical influence of shape on the workpiece metal. It is used only in cases of mass production. Therefore, the thus obtained parts very often can have a curved contour lines and angular forms. In the production process our employees always use high quality parts that are made from solid steel sheets. In the future, all parts are supplied into the laser machine for thorough cutting and subsequent processing steps of the final workpiece.
Our product range includes steel plugs to all existing diameters, which are ideal for coupling with stainless pipes, girders and wood hand rails. Also presented steel elbows.
Gallery plugs